Astragalus (Astragalus membranaceus Bunge): botanical, geographical, and historical aspects to pharmaceutical components and beneficial role
Alessandra Durazzo, Amirhossein Nazhand, Massimo Lucarini, Amelia M. Silva, Selma B. Souto, Fabrizia Guerra, Patricia Severino, Massimo Zaccardelli, Eliana B. Souto & Antonello Santini
Abstract
Medicinal plants always are part of folk medicine and are nowadays receiving worldwide attention for prophylaxis, management, and treatment of several diseases, as an alternative to chemical drugs. The current work provided a comprehensive overview and analysis of the Astragalus and health relationship in literature. The analysis of their therapeutic potential is thus instrumental to understand their bioactivity. Among these, the flowering medicinal plant Astragalus membranaceus has raised interest due to several beneficial health effects. This perspective review discussed the botanical, geographical, historical, and the therapeutic properties of A. membranaceus, with a special focus on its health improving effects and medicinal applications both in vitro and in vivo.
Graphic abstract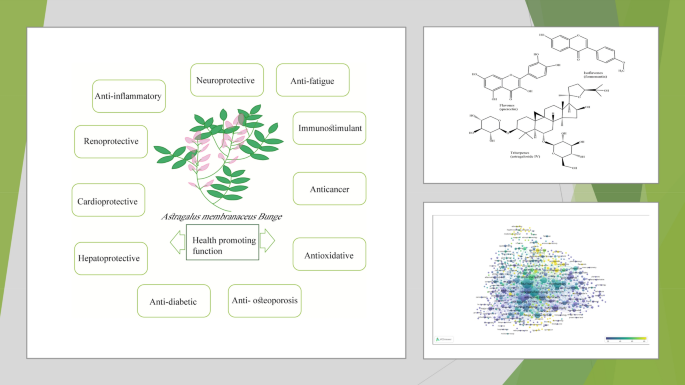 Introduction
Medicinal plants have long been used as a global strategy for the treatment of various diseases (Izzo et al. 2016). The International Union for the Conservation of Nature (IUCN) declared the use of 50,000–80,000 medicinal plants for medicinal purposes (Chen et al. 2016) in line with biodiversity and sustainability concept (Guarino and Pignatti 2010; Pignatti and Cipriani 2010; Pignatti 2013; Attore et al. 2018). Astragalus membranaceus (Fisch.) Bunge (syn. Astragalus propinquus Schischkin) is a plant from the Fabaceae (or Leguminosae) family, and a flowering medicinal plant for which several beneficial effects have been identified, e.g., cardio; neuro; reno; and hepatoprotection, hypoglycemic, anti-osteoporosis, anti-fatigue, anti-inflammatory, anti-cancer, antioxidant, and immune system boosting. The geographical distribution of this plant has been reported at the edge of mountains and scattered forests and grasslands, which grow predominantly in the inner Mongolia autonomous region and the northeastern regions of Heilongjiang Province, China, as well as traditional medicine widely used the Radix Astragali, the dried root of A. membranaceus var. Commercial sales volume of Astragalus mongolicus is estimated at more than 10 million tons per year (Zhang et al. 2019). The purpose of this review article is to investigate the botanical, geographical and historical characteristics of A. membranaceus, in addition to gathering information about the main components and therapeutic purposes of the plant.
s12210-021-01003-2

References:
https://link.springer.com/article/10.1007/s12210-021-01003-2
The DMSO Handbook for Doctors
Water Crystallography – Sailboat
By: Veda Austin @vedaaustin_water
⚠️VIROLOGY ON TRIAL 1-8 Where is the logic and evidence?🔆
(Tim Truth Odysee playlist)
1 Dr Tom Cowan Exposes Massively Lacking Evidence Showing Viruses Actually Exist & Cause Disease
2 VIROLOGY ON TRIAL: Drs Cowan, Kaufman & Lanka Debunk Viral Theory? You Decide!
3 BOMBSHELL: There's No Proof Of Contagious Viruses Causing Disease; Drs Cowan, Bailey, Lanka, Kaufman
4 Exploring The Fallacious Foundation Of Virology w/ Drs. Cowan, Kaufman & Lanka
5 Where's The Proof Of SARS-CoV-2? Does Erroneous Logic Underpin Mainstream Viral Theory?
6 FREEDOM POISONED: Is Virology Rooted In Nonsense & Silence? Largest Crimes Ever?!
7 Scientific Trickery?! Evidence For Pathogenic Sars-CoV-2 Virus Almost Totally Lacking?
8 Massive LACK OF EVIDENCE Of Contagious Disease: Studies Show The Opposite
CONTAGION STUDIES from Daniel Roytas
https://odysee.com/@TimTruth:b/
https://bitchute.com/timtruth/
🔅@NLvirusWAAN